Improve your golf game with these exercises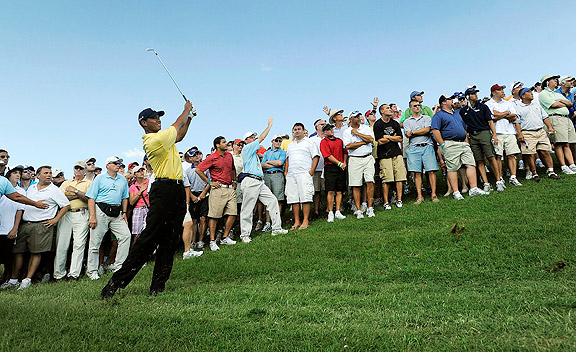 The New York Sports Clubs shares some tips to get your body in golf shape for when you attack the links this summer.
Big Bertha ? Driving power from your legs and arms will increase your yards. Grab your driving club and get started:

Stand with feet a little wider than shoulder width. Bending at the hips and knees, lower into a squat and hold the position. Hold the club with both hands in front of you, parallel to the floor. While holding the squat, bend the elbows bringing the club to the chest at an angle, press out and repeat with the angle in the other direction. Continue pressing in and out at a diagonal for 30 times, working your way up to 75.

Caddy Shack ? For stamina to walk the course, follow this move to get your heart rate up and cardiovascular system conditioned:

Place three tees on the floor about two feet from each other in a line. Starting on the left of the first one, hop over each with a dbl hop between them. When you get to the end, hop back to the starting position. Try to continue hopping for 30 seconds, working your way up to a minute.

Hole in One ? Core strength is imperative to drive the ball down the green. Try this core strengthener to get that hole in one:

Sitting on the floor with your feet flat on the ground, grab a golf ball in your right hand. Lean back slightly, lifting your feet off the floor a few inches holding yourself stable by contracting your stomach muscles. Holding that position, gently lower right leg as you slightly lift the left and pass the ball through the legs to the left hand. Switch the legs and pass the ball back to the right hand, through the legs. Continue for 20-30 repetitions.

Back Nine ? With all the swinging and bending, a golfers low back is a must to strengthen

Lie on your stomach, legs out straight and arms straight at your side. Lift up your head and legs at the same time, keeping your spine in line with your head. Hold the position with your low back and glutes for 3-5 seconds and release. Start with 8-10 working your way up to 15.

Club House ? When your game is over, before hitting the showers or clubhouse, make sure to stretch

On all fours, round your back so you feel your spine open, lifting up your belly button to the ceiling, tucking your glutes and head under. Hold for 3 seconds. Reverse the move by lifting your head to the ceiling and curving your back under, tail bone to the ceiling.
There you have it. If your game still stinks, then it might be time to pick up another hobby!
Posted in: Exercise, General fitness, Specific workouts, Sports Health and Fitness, Weight training, Workout programs, Xternal Fitness, Xternal Furci
Tags: get stronger for golf, golf exercises, Golf tips, golf workout tips, golf workouts, golfing workouts, how to hit the ball further in golf, putting tips, tips for better drives in golf, tips for getting in shape for golf